37 Awe-Inspiring Aquarius Tattoos For Women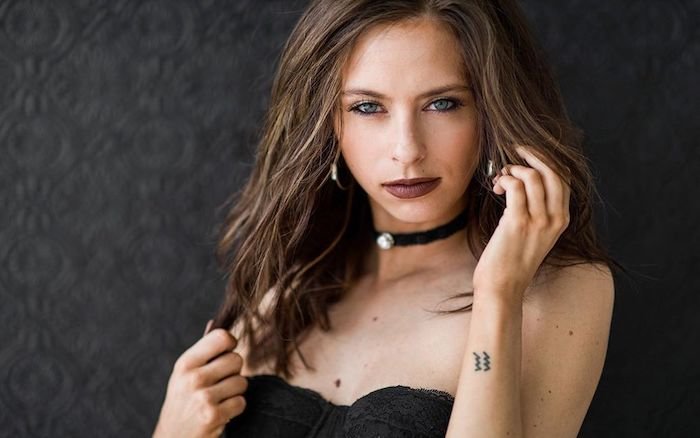 We've got some amazing Aquarius tattoos for women to share with you. Aquarius women are independent, brilliant, and friendly. Aquarius ladies often go with tattoos that have are meaningful to them without consideration to how other's will react.
Aquarius Tattoos for Women
Aquarius is the eleventh astrological sign of the Zodiac, and covers birthdays from January 20 through February 18. It is an air sign, the same as Gemini and Libra. It is ruled by the planets Saturn and Uranus.
Related: Gemini Tattoos for Women
Related: Libra Tattoos for Women
Aquarius tattoo ideas for women include the water bearer – a female pouring water out of a jug, the zodiac symbol of two wavy parallel lines. Some women also like an Aquarius constellation tattoo. The best tattoo depends on the location and size, and also the tattoo style and ink color.
You should first focus on a design that is meaningful to you. Your Aquarius tattoo will be with you for a long time. Consider you personality and life style, and how true you are to the Aquarian spirit. To help you with this process, we present a gallery of Aquarius tattoos for women that may spark a design idea for you.
Let us know your thoughts on how we did in the comment section below. Thanks!
Aquarius Back Tattoos
The backside can be a dramatic location for Aquarius back tattoos for women. It's a location that's typically covered up so most people won't have a clue that it's there. You can also wear tops or sport bras that will partially expose your tattoo and give others a peek.
Here are some Aquarius Back Tattoos with meaning to inspire you.
Aquarius Shoulder Blade Tattoos
Aquarius shoulder blade tattoos for women are easier to show off under clothing than a centered back tattoo. This makes your tattoo design available for more people to see. After all, why get a beautiful back tattoo, that only a few people will get to see? As you will discover from the examples, there is plenty of room for exquisite ink ideas in that location.
Let's check out some examples:
Aquarius Back of Neck Tattoos
The back of the neck is a popular location for small or mini Aquarius tattoos for women. It's not readily visible, and can be hidden with hair or clothing making it a good choice for ladies who need to show a conservative side at work. At then end of the day however, you can pull up your hair and let your wilder side out.
Have a peek at these back of neck tattoos:
Aquarius Ear Tattoos
Ears are a delicate and underrated part of your female body. Decorate and celebrate this wondrous organ with a mini Aquarius tattoo. Amaze and delight your friends and family with this near secretive tattoo. Keep the design simple for best results.
Let's take a closer look at some ear tattoos:
Aquarius Wrist Tattoos
Wrists are a popular place for Aquarian girls to get tattoos. It's a location small, and out of the way, yet readily visible with a wave of the hand. Having an Aquarius sign tattoo on the wrist is the trend, and there are different tattoo styles to match your tastes.
If you're a more expressive type, you can place a small illustration on your wrist. Some women love an Aquarius water bearer wrist tattoo.
Here are some Aquarius wrist tattoos for women to ponder.
Aquarius Arm Tattoos
If you find wrist tattoos are too much for you, work your way back up your arm for a location that is a bit more visible yet easier to cover. These Aquarius tattoos for females offer greater skin space for larger and more complex design.
Take a look at these arm tattoos for some design ideas.