37 Tempting Travel Tattoos to Try Today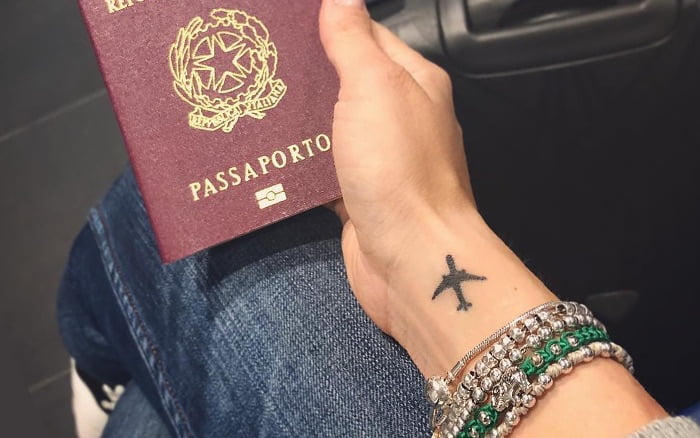 Travel tattoos are all the rage for people who crave experiences over material goods. There's no better way to satisfy that wanderlust than to hop on a plane and fly away. Let a travel inspired tattoo of an airplane, globe, compass, or other navigation symbol announce your inner desires to others.
Travel Tattoos for Females
For those days when you're stuck at home between trips, a travel tattoo reminds you to dream and reflect on your past journeys. Let your free spirit soar through the ink on your skin.
Travel tattoo designs for females include airplanes, maps, globes, balloons, and compass symbols. Combine these elements into a design that is uniquely yours.
Take a look at these travel tattoos and let them inspire your next trip to the tattoo studio.
Travel Ankle Tattoos
Some women like ankles as a travel tattoo location. And why not, when traveling we frequently need to walk meaning our ankles are in motion.
Do you like these ankle tattoos? Let us know in the comment section.
Travel Finger Tattoos
Travel finger tattoos offer a discreet reminder of your passion for wandering the world. One quick glimpse and let your day dreams take you where you want to go.
Let's explore these finger travel tattoos for women.
Travel Wrist Tattoos
Wrist travel tattoos offer a quick way to show others your wanderlust desires. You might even make a travel partner out of them.
Have a peek at these wrist travel tattoo designs, and let us know what you think in the comments below:
Travel Arm Tattoos
Travel tattoos for women's arms are easier to cover than wrist tattoos. Some women need this versatility for discretion at work.
Here are some arm travel tattoo designs for women.
Travel Ear Tattoos
Behind the ear travel tattoos let you give a subtle nod to your love of the journey. It gives a hint to what's really on your mind when you are day dreaming.
Explore these mini behind the ear travel tattoos.
Travel Back Tattoos
A woman's back can be the location of a complex or a bold travel tattoo design. There's enough space to put down all your ideas in ink. Do you have your own travel inspirational story that could be told in a back tattoo?
Find inspiration in these back tattoos for females that love to travel: