79 Awesome Aries Tattoos For Women To Amaze Your Friends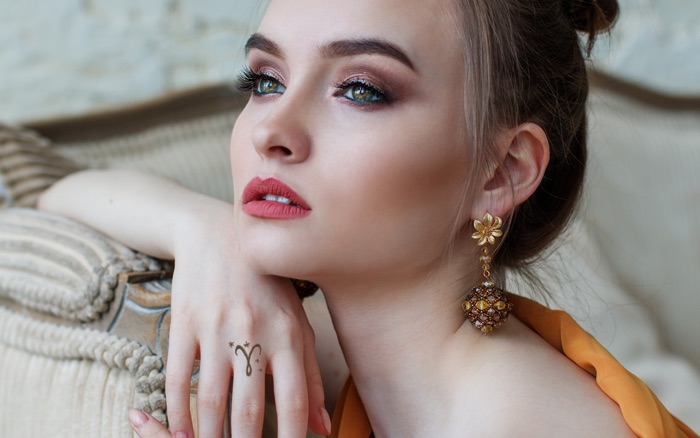 Zodiac signs are one of the most popular tattoo subjects that people want. Aries people love their birth sign and their birthday is one thing that won't change over the course of their lives. It will alway remain relevant to them.
Aries Tattoos for Females
That said, Aries tattoos for women can take on many different interpretations. In this article we are highlighting various Aries zodiac sign tattoos for the female gender.
Aries is the first astrological sign of the zodiac, and covers birthdays from March 20 through April 20. It is a fire element with the symbol of a ram. Girls born under Aries, might get a ram, ram head, or ram horns to pay homage to this wondrous beast. Alternatively, they may go more abstract getting inked with the Aries zodiac symbol.
The size and location of the Aries tattoo has different meanings. The best Aries tattoo for women isn't one specific tattoo, rather it depends on the personality of the lady getting inked. What a meaningful tattoo is for one person, is not for another.
Small, mini Aries tattoos behind the ear or on the inside of the wrist just hint at the personality within. A large stylized Aries ram side tattoo makes a different statement.
Related: Sagittarius Tattoos for Women
Related: Cancer Tattoos for Women
Take a look at these Zodiac Aries tattoos for women and let us know what you think of them in the comment section.
Aries Back of Neck Tattoos
Aries women choose the back of their neck as a location to ink subtle tattoos. This can be tiny, mini, or otherwise small tattoos that can easily be concealed by her hair.
For larger and more complex designs, moving downwards to the base of neck and upper back area.
Lets have a look at some gorgeous examples of Aries back of neck and upper back tattoos for females:
Aries Shoulder Blade Tattoos
Aries tattoos for women locations include the side of the upper back, or the shoulder blade. This area has a little more visual interest rather than going dead center in the back. It also allows for better framing of asymmetric tattoos like faces that are looking to one side or the other.
Have a look at these Aries shoulder blade tattoos for females, and let us know what you think in the comments below.
Aries Wrist Tattoos
A wrist tattoo is a popular location for Aries women. The outside edge of the wrist is somewhat hidden, making it a perfect location for a first tattoo.
The inner wrist is also common as it is easy to see and show. The location really depends on the personality of the woman, and what is the purpose and meaning of the tattoo.
Have a peek as these Taurus zodiac wrist tattoos for women. Let us know which one you like best in the comments below.
Aries Finger Tattoos
Finger tattoos for Aries women is a subtle way to wear your birth sign. At the same time, it's fun to flash to you friends and co-workers.
Aries ring finger tattoos are meaningful as the location is true to one's heart.
Check these Aries finger tattoos for women. Let us know which one you like best in the comments below.
Aries Shoulder Tattoos
The outside arm / shoulder is one of the old school locations for a tattoo. Aries women frequently ink this location for larger, bold tattoos with meaning.
Sometimes this is just the start of one side of a full sleeve tattoo. In any case, the door is always open to adding additional tattoos to form a sleeve at a later time.
Have a peek at these awesome Aries shoulder tattoos and let us know your thoughts in the comment section below.
Aries Arm Tattoos
Aries zodiac arm tattoos for women can be located on the bicep, elbow, or inside, outside or back of the arm.
The arm tattoo location has different meanings depending on how visible the tattoo is. The location also affects what size tattoo design will fit aesthetically.
Let's run through some examples of astrological Aries arm tattoos for women.
Aries Forearm Tattoos
Aries women sometimes choose forearm tattoos because they are easy to hide under long sleeves. Others get them because there is more room compared to wrist designs.
Aries is a fire sign, along with Leo and Sagittarius. Aries women can be brave, reasonable, and risk takers,
For this reason, forearm tattoos appeal to traditional Aries women as it is a bold location for a tattoo. This can further be emphasized with a strong Aries ram tattoo.
Still, other Aries women prefer to soften things up to balance the location with flowers or star constellations. Another option is the hybrid tattoo that combines two different elements into one.
Let's explore these Aries forearm tattoos for women.
Aries Behind the Ear Tattoos
One tattoo location for the introverted Aries woman is behind the ear. Most of the time, behind the ear tattoos will be covered by hair. It will be up to you when and where it will be seen.
In addition to being hidden, it's also a safe spot to show people. You won't have to disrobe for this show.
Come have a look at these Aries behind the ear tattoos for women.
Aries Ankle Tattoos
For the Aries woman, the ankle is a trendy, conservative location for smaller tattoos. Such tattoos are easy to hide, and even when revealed, it's below the sight line.
This makes the ankle tattoo one of the safest tattoos for the Aries woman.
Enjoy these Aries ankle tattoos for women, and let us know what you think of them in the comment section below.