Choosing the Right Tattoo for a Woman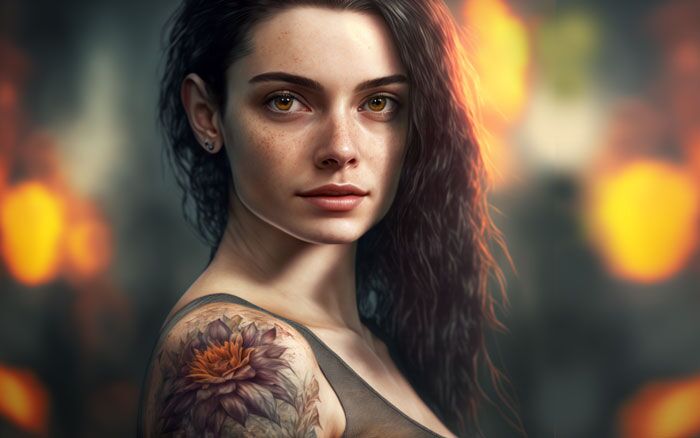 More and more women are choosing to express themselves with a tattoo these days. These female tattoos are meaningful and reflect an aspect of their identity, a celebration of something important, or a self-reminder for a desired state-of-mind. Tattoos come in all shapes, sizes, and colors and is and art form that is only limited by your imagination.
Once you've come to the realization that tattoos are attractive on females, there are so many considerations that choosing the right tattoo for a woman can be a daunting task. We've put together a list of tips and things to ponder to help you make the right choice for your tattoo, to ensure that you'll have a tattoo that you'll love for years to come.
Finding the best place to put a tattoo for a female
One of the first things to think about is where to put your tattoo. Some places on your body are more visible than others, and you may want to have a spot that will be more easily covered up. You can also have a location where your tattoo is on display for all to see. This will depend on the expressiveness of your personality, and also the type of job or career you have or want.
Another consideration about placement depends on your pain threshold. Women report that some areas of the body are more painful than others for tattoos. More details are at our post on the least painful place for a girl's tattoo.
Deciding on the tattoo size for a woman
The size of the tattoo has a big impact on determining the right tattoo for you. A small or mini tattoo can be very subtle, feminine, and understated. A larger tattoo is considerably bolder and will have more impact, although this can be tempered by placement and clothing cover. Then, there is everything in between.

The density, or how heavy the ink is, affects the size consideration. A large tattoo with thin, delicate lines is lighter in comparison to a heavily colored one. In the end, the location of your tattoo impacts the size decision so they should go hand in hand.
Choosing a tattoo design with meaning
Most women choose a tattoo design that has some personal significance. Your tattoo will be with you for many years, so take time to think about what you want your tattoo to remind you about when you see it. For example, your tattoo meaning could be:
Symbol – Animals, flowers, religious icons, or astrological symbols like these Sagittarius Tattoos for Women.
Text – Words, phrases, or names are a meaningful way to express your feelings.
Dates – Celebrate important dates with your tattoo, like birthdays, weddings, or date of passing.
People – Honor people who are important to you. It can be a portrait, name, or just the initials.
Selecting a tattoo style for a female
The style of tattoo, such as traditional, watercolor, blackwork, or minimalist impacts the vibe of the tattoo. It's partially a personal choice of what style you like, what works for your body, and also is consistent with the design and location of your tattoo. Everything should go together.
Selecting the right style for your tattoo dictates the tattoo artist you choose. Every tattoo artist has their own personal style and you'd best check out their portfolios to get a better feel of the types of designs that are their strength.
Deciding on a color for a girl's tattoo
Color adds depth and interest to a tattoo for women, but not all colors are created equal. Some tattoo ink colors hold up better than others over time. The first basic choice is a color tattoo versus a black and gray one. For a minimalist tattoo, less colors are better. Tattoo color tips:
Fading – Some tattoo inks tend to fade out more than others. Warmer tones like red, orange, and yellow fade faster than darker colors like black or blue. If you want a tattoo color to last longer, consider getting one of the darker colors.
Vibrance – Some tattoo inks are brighter and more vibrant than others. Blues, greens, and purples are typically bolder and more dramatic. If you want a tattoo that stands out, consider one of those colors.
Maintenance – If you do select an ink color that is known to fade and you want it to stay vibrant, then you'll want to factor in maintenance or touch-ups over time. If you want low-maintenance, look at the black and gray colors which are more resistant to fading.
Talk to your tattoo artist about the specific inks they plan to use and their fading characteristics before making your final decision on colors.
Finding the right tattoo artist for a woman
Choosing the right tattoo artist is critical, especially if you are a woman. Here are some tips:
Look for a tattoo artist who has experience in the style of tattoo you want.
Check the tattoo artist's portfolio to get a feel for their style and skill level.
Verify that the tattoo artist is licensed and insured.
Inspect the tattoo studio for cleanliness as an indicator for sanitation and your safety.
Chat with the tattoo artist beforehand to make sure you are totally comfortable with them.
Ask your questions, concerns, and references to double-check your decision.
Setting a budget for your tattoo
The prices for female tattoos vary, so it's important to have a budget in mind and to find an artist in your price range. A higher price doesn't necessarily mean a better tattoo, and the larger and more complex the tattoo, the higher the price will be.
A tattoo is going to be with you for a long time. You may want to forego the cheapest option to reduce the risk of trouble down the line. And you can also plan your tattoo design in multiple stages. This will spread out the financial demands as well as the pain.
Considering when to get your tattoo
Finally, consider what events are coming up on your calendar. Tattoos need time to heal and you don't want to show up at your event with scabs or tattoo redness. Make sure you allow enough time for the healing process.
Choosing the right tattoo can be a big decision, but with a little bit of thought and research, you can find a design that you'll love for years to come. Remember to take your time, do your research, and work with a trusted tattoo artist to bring your tattoo dreams to life.
Now, go get your perfect female tattoo!
Do you have your own thoughts about how to choose a tattoo as a woman? If you already have a tattoo, how did you select the design and are you still happy with it?
If you're still on the fence, perhaps you'll want to consider one of these temporary tattoos for women.
Let us know about your experiences in the comment section below.