Temporary Tattoos For Women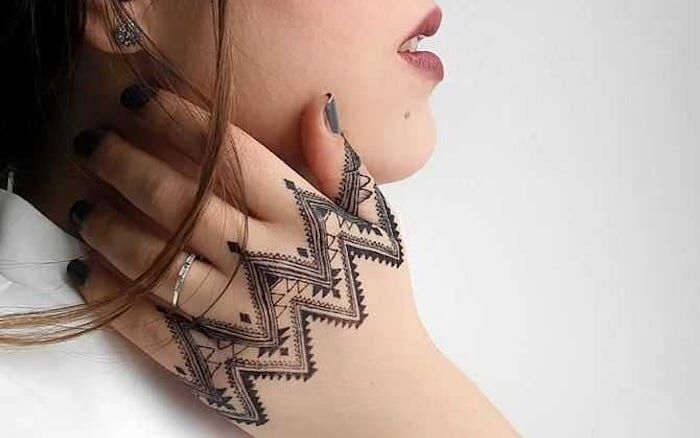 Temporary tattoos for women are graphical images and designs that decorate skin for a short period of time. It's an alternative way to show off a tattoo design without the commitment of a full blown permanent tattoo.
Some women use temporary tattoos to "test the waters" before getting a real tattoo. Other women just like to play with different designs to suit different occasions. Either way, temporary tattoos are a fun way to express yourself to others.
Temporary Tattoos
What are the different types of temporary tattoos?
Temporary tattoos can be pre-printed decals, henna ink, or temporary ink. Additionally, the tattoo dyes can be applied freehand or with a stencil.
How long do temporary tattoos last?
Temporary tattoos can last from a few days to a few weeks. In some cases they can be removed immediately when desired.
Lets explore further the different types of temporary tattoos.
Decal Temporary Tattoos
Decals are pre-printed images on a transfer paper. They can either be full color or simply black images. Decal tattoos are easy to apply and just need to be moistened with water before pressing it on the skin. The decal slides off the transfer paper and the temporary tattoo is set into place.
Decal tattoos are easily removed with soap and water. No remaining residue is left once the decal is removed. This makes decal tattoos very popular with the younger crowd.
These water transfer flower decals are easy to apply with a sponge. These black temporary tattoos come in a pack of 10 and are about 3.8 inches wide and 7.5 inches long. Big enough to make a statement, just not a permanent one.
---
These temporary, tiny, mini tattoos for women sprinkle love anywhere and everywhere your body desires. They are so realistic, your friends will think they are genuine. Everyjoy tattoos are waterproof and last for 5 – 7 days.
---
Inkbox catalog tattoos are similar to decals in that they are pre-printed, fool-proof designs. Where they differ is that these are made with temporary tattoo ink. It's a hybrid that captures the best of both worlds – printed tattoos that looks real and lasts 1 – 2 weeks.
If you want the convenience of a decal, but don't like the fakeness, peeling, and flaking, check out Inkbox catalog tattoos.
---
Henna Temporary Tattoos
Henna is a reddish-brown dye that is make from the henna tree (lawsonia inermis) which typically grows in the tropical and subtropical regions of Africa and Asia. These henna tattoos have been around for centuries, having been used in ancient Egypt. Henna tattoos last between one to three weeks.
The henna paste must be left on the skin for the color transfer to take place. The longer it is left on, the darker the color. Usually, you leave the henna paste in place for an hour or more, occasionally moistening with lemon juice to keep the paste from drying.
Note: "black henna" is not henna. It may or may not include henna, and often includes black hair dye. Some of these chemical concoctions cause allergic reactions, so be mindful of the difference in the types of henna.
Do not buy ready-made henna inks, they will contain chemicals. Instead, buy quality henna powder and make your own henna paste. Here's one that we like:
---
How to use henna powder for tattoos:
Put 2 tablespoons of henna powder into a glass bowl
Add 1 teaspoon of sugar
Add 1/4 cup of lemon juice
Mix well, adding more henna power or lemon juice as needed to get a thick mayonnaise consistency.
Let sit for a couple hours
Apply using a henna applicator cone or bottle.
These henna applicator bottles come with many different sized tips to give you control over coverage versus detail. They are far superior to traditional henna cones.
---
Temporary Ink Tattoos
Modern science has brought us many dyes and now they are safer than ever coming in a variety of colors. These inks are sometimes marketed as semi-permanent tattoos. These inks can last anywhere from a few days to a few weeks depending on the manufacturer.
As with all skin products, some people may have adverse reactions to these inks. It's best to apply a small amount of dye to the skin as a test to see if you are allergic before fully using the ink.
Inkbox Freehand Temporary Tattoo
The Inkbox freehand semi-permanent tattoo lasts 1 to 2 weeks. The kit contains everything you need to create your temporary tattoo masterpiece. Apply design, wait an hour to dry and wash off, Design darkens over the next 24 – 36 hours.
Inkbox is a skin-safe dye made with genipa plant extract. It's waterproof, and unlike jagua gel, does not require refrigeration.
Tip: be careful with the ink and wear gloves to avoid stray tattoos. Avoid touching or smearing the tattoo gel while it dries.
---
Charmark Jagua Gel Temporary Tattoos
The Charmark jagua tattoo gel kit includes black, brown, and red inks along with 85 tattoo stencils. The sticker stencils guide the artistically challenged tattooist, and greatly help beginners. The temporary tattoo is waterproof and last 3-5 days.
Jagua is a fruit that grows in the rain forests of Central and South America. Jagua extract forms the basis for the jagua tattoo gel.
Tip: For super fine details, use a thin brush to apply the tattoo gel.
---
Thanks for sticking to the end of our temporary tattoo article. Have you tried temporary tattoos? Let us know your experiences and thoughts in the comment section below.