Where is the least painful place to get a tattoo for a girl?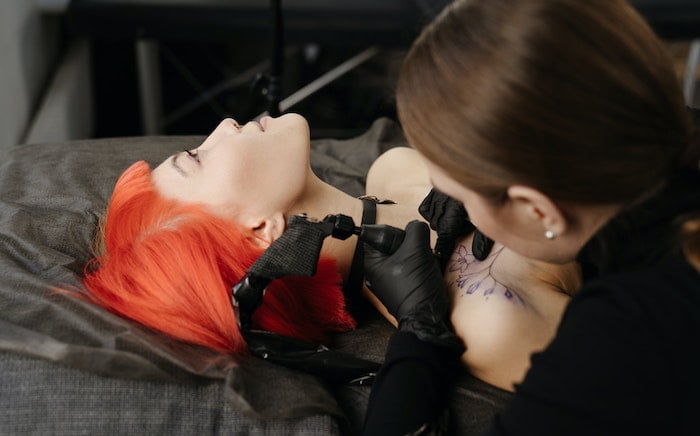 Are you a girl that got a tattoo and underestimated the pain? by a lot? Or are you a girl looking for your first tattoo and need to know the least painful location for your tattoo? Either way, we've got you covered.
When any woman gets a tattoo, there is some discomfort. That said, there are some places on your body where a tattoo will hurt less. If you can have the same tattoo design in a location that hurts less yet still looks great, that's ideal, right?
There are girls who like tattoo pain and for them location won't make a difference. Then there are girls with a zero tolerance for pain, and for them all we can do is to recommend you check out a cute temporary tattoo. For everyone left, read on for the best places.
For girls with a low pain threshold, we present the 9 best places to get a tattoo for the least amount of pain.
1. Upper Shoulder Tattoos for Women
We start our list with the upper shoulder area. Many girls report that this is one of the least painful areas to get inked. Thicker skin and less nerves help to keep this area free from that intense sting.
With the right design, it can also be one of the most feminine locations to show off your design. For example, a black ink flower and vine shoulder tattoo can easily be hidden under a shirt, but can also be partially or fully exposed when you want.
2. Wrist Tattoos for Women
The female wrist can also be a great place for a least painful tattoo. The softer areas of the outer wrist and to a slightly lesser extent, the inner wrist are not so bad compared to other locations.
A black ink vine tattoo that wraps around the wrist is a beautiful way to accent your arms. One small word of caution is that there may be a little more "discomfort" on the bony areas at the side of the wrist. Hopefully by the time they get to the sides, you'll have built up some pain tolerance to make it go a little smoother.
3. Achilles Heel Tattoos for Women
The Achilles heel or the back of the lower leg is another lower-than-average place for tattoo pain. One of the reasons for this is that the area is small and lends itself to tiny tattoos. A tiny tattoo, by nature, is going to be less painful.
Tattoo your zodiac sign, like Leo for example, and you'll be up and ready to go in no time. So much so that you'll consider getting another mini tattoo on the other leg.
4. Upper Back Tattoos for Women
Some women like a tattoo that is out of sight, out of mind. This applies to tattoos for the upper back. Thankfully this is another of the least painful places for a tattoo.
One caveat is that the section right above the spine is going to sting. If that is going to be an issue for you, then you may want to shift the design off to one side or the other.
Women like back tattoos like this Pisces dual fish design because it is a flat canvas that can better show off intricate designs. If you like this design, we have other Pisces tattoos for women on another page.
5. Hip Tattoos for Women
A woman's hips is a lower than average painful area for a tattoo. Many women choose this area because they are seeking a private, sexy, but relatively painless area for their tattoo.
The scorpion is the symbol for the Scorpio astrological sign. The female hip is perfect place to hide and spring your scorpion tattoo on someone close to you. Yes, come close, but not THAT close!
6. Front Thigh Tattoos for Women
The front of thigh is is a great place for a tattoo if you're a woman worried about the pain. Thighs offer a lot of padding and no bony points. This makes for a more comfortable experience. The only question is, what tattoos are attractive on girl's thighs?
In our example, we see two beautifully rendered frog tattoos for front of thighs. The frog is a symbol of good luck, peace, and opportunity. If you are starting a new journey in your life, a frog tattoo can memorialize your life change and bring you luck at the same time.
7. Ear Helix Tattoos for Women
Women getting ear tattoos are a popular trend in mini-tattoos. It's also one of the less painful areas for a tattoo. The ear helix, or outer cartilage, lends itself to tiny tattoos. That said, there are still many possibilities to explore for this delicate area of the female body.
Starry ear tattoos are a favorite for girls. Stars are a symbol of inspiration, journey, wonder, and fate. Place your trust in the skies with this epic tiny tattoo. You know, earrings are so traditional and boring. Check out these other amazing ear helix tattoos as they may just be what you are looking for to refresh your style.
8. Web of Hand Tattoos for Women
The back of the hand, and more specifically, the webbed portion of the hand is another target area for reduced pain tattoos. By avoiding the many hand bones, this hand tattoo is less painful than usual. The hand is also a great to way to flash others with your meaningful tattoo.
The spider tattoo fits perfectly on the web of the hand. The web, get it? *groan*The spider tattoo is both positive and negative in meaning. They are industrious creatures that can spawn artistic web creations. They also trap and kill things however.
Adding a number 13 tattoo to your design as a sign of good luck. Especially after a particularly rough spot in your life when everything went wrong, The 13 tattoo could be just the sign you need for your new journey.
9. Fingernail Tattoos for Women
For the girl who wants a no-tears tattoo, a fingernail tattoo may be just what you are looking for. There is no pain with this tattoo as the tattoo ink is on the cuticle layer where there are no nerves.
The downside of this tattoo location is that although the ink is permanent, the tattoo isn't. As your fingernails grow, so flows the tattoo toward the end of your finger tips. You'll want to keep that in mind when choosing a design – one that looks good when the the first half is gone. A top coat can be applied to help preserve the tattoo as it makes its journey.
Well ladies, that's our list of the least painful locations for a tattoo. Did you find anything you liked or have any further questions? Have a story to share about your favorite tattoo location? Let us know in the comment section below.