31 Mesmerizing Mini Tattoos by Marjana Brun Tattoo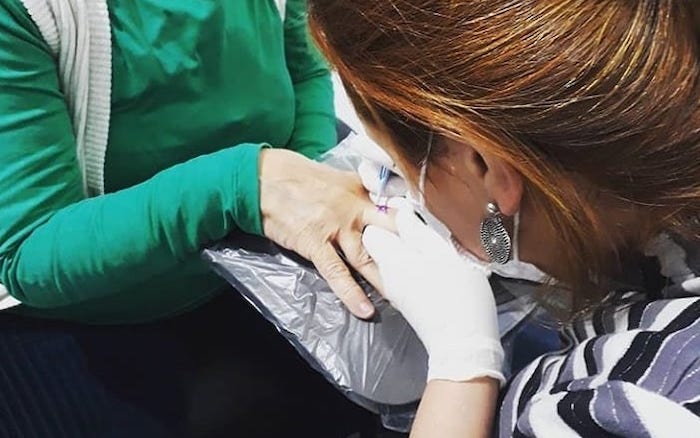 Marjana Brun is a fine line tattoo artist based in Porto Alegre, Brazil. She inks words, letters, symbols, and illustrations mostly in black color.
Marjana Brun Tattoos for Females
Marjana specializes in fine line tattoo designs for women and couples. While a lot of her work is with mini tattoo designs, she does have larger tattoos in her portfolio. Couples often get matching or complementing tattoos to show their bond.
Take a look at these mesmerizing tattoo designs by Marjana Brun and let us know which one inspires you in the comment section.
Back Tattoos
Marjana Brun mini back tattoos are placed on the upper back, at the base of the neck, shoulder blade, or upper back shoulder area.
What do you think of these back tattoos for females by Marjana Brun Tattoos?
Arm Tattoos
Marjana Brun Tattoo arm mini tattoos are can be placed on the forearm, bicep, or back of arm. Arm tattoos are popular with women as they are easy to cover and easy to reveal.
Explore these Arm Tattoos for women by Marjana Brun.
Wrist Tattoos
Marjana Brun Tattoo mini wrist tattoos give women an easy to flash tattoo for others. You'll see your own wrist tattoos every day, making it an ideal location for timeless, reminder tattoos.
Have a look at these Marjana Brun wrist tattoos and let us know what inspires you in the comments below:
Finger Tattoos
Marjana Brun Tattoos finger tattoos are a fun place for your mini tattoo. They are tiny, yet meaningful.
Have a peek at these Marjana Brun finger tattoos for women.
Ankle Tattoos
Marjana Brun ankle tattoos are for women who want a tattoo that is visible but not so obvious. Typically, ankles are not the first place people look so it won't be the first thing that they see.
Ankle tattoos are for looking at when you need some inspiration, or a diversion from your thoughts. They are always there ready to trigger good memories and ideas.
Do you like any of these Marjana Brun ankle tattoos for women? Let us know in the comment section.